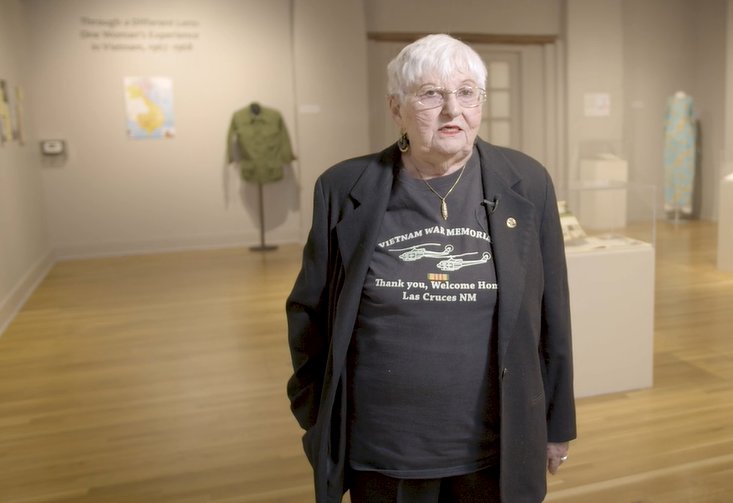 Woman recalls her service in Vietnam in video, museum interview
By Mike Cook
An exhibition titled "Through a Different Lens: A Woman's Experience", on the civil service of Frances F. Williams, longtime resident of Las Cruces during the Vietnam War, was to be opened to the public at the Cultural Center. Branigan in March 2020, but then public health ordinances shut down museums across the state.
No one was able to see the exhibit because of Covid-19, so Williams edited a five-and-a-half-minute video on https://vimeo.com/514404777 of the exhibit, which includes many photographs that Williams and others took while she was in Southeast Asia.
You can also watch an interview of the City of Las Cruces Museum System with Williams about the exhibit at www.facebook.com/LCMuseums/videos/3740837659284014.
"I was called by the Pentagon (early in 1968) to see if I would be ready to go to Vietnam (as a volunteer) because there was a lot of difficulty getting supplies in the field to the soldiers." Williams said. , 92, who worked for the U.S. Army at White Sands Missile Range (WSMR) for 37 years and lived in Las Cruces for 67 years.
"The computer system used was under contract and the company was not exactly aware of the military's supply system," Williams said. "I accepted and was sent to the 14th Inventory Control Center in Long Binh, Vietnam, but was hosted in Saigon.
"Three weeks after my arrival, the Tet offensive (January 31-September 23, 1968) began and all hell broke loose. Snipers shot me from the Catholic Church in Saigon as I waited for my bus to take me 26 kilometers from my workplace.
"After I was able to report to work, I found out that there was the 24th Evacuation Hospital, which took the injured in the field, stabilized them, and then sent them to Japan. Since I only worked 12 hours a day and was a workaholic, I went to the hospital to volunteer with whatever I could do. I was a gofer, a writer and had many experiences with the soldiers, nurses and medics I worked with.
Nobody knows how bad the fight is until you see it up close and personal like I did.
"I also met a famous artist from New Mexico, Michael Naranjo, for whom I wrote a letter to his family, and then I wrote them a personal letter as well. Michael, a Tewa Indian, is from Taos Pueblo and has become an internationally renowned bronzer and also carves marble. His famous Eagle Man statue can be found in the courtyard between the Branigan Cultural Center and the museum. The letter his family returned to me is one of the pieces on display at the exhibit. Seeing these young men in the prime of their lives, hurt, hurt, physically and mentally, was an experience I will never forget. Every now and then these images come to my mind, triggered by an incident, and I feel the tears rising.
We may not have been part of Vietnam, as many critics say, but, by God, when our troops are deployed anywhere they deserve our support and commitment. Going on a mission was one of the best things I have ever done, and in the exhibit I focused on the people and children of Vietnam who also suffered. The American soldiers were so nice to the kids and that's another story that hasn't been told. God bless our troops wherever they serve and God bless America.
"It tells a story that I don't think has ever been told about Vietnam," Williams said.
During her career at WSMR, Williams served as Director of Civilian and Military Equal Employment Opportunity Programs and also oversaw the budgets and human resources of the Instrumentation Directorate. She also has experience as a professional mediator as well as a trainer in labor law. Williams helped start Temple Beth El and has volunteered for, among others, city and state housing authorities, the New Mexico Commission on the Status of Women, the Memorial Committee of the Vietnam War and with the WSMR Museum and Historical Foundation. Williams ran for mayor of Las Cruces in 2003. She was a founding member of the New Mexico Ethics Commission, for a two-year term that ended June 30.