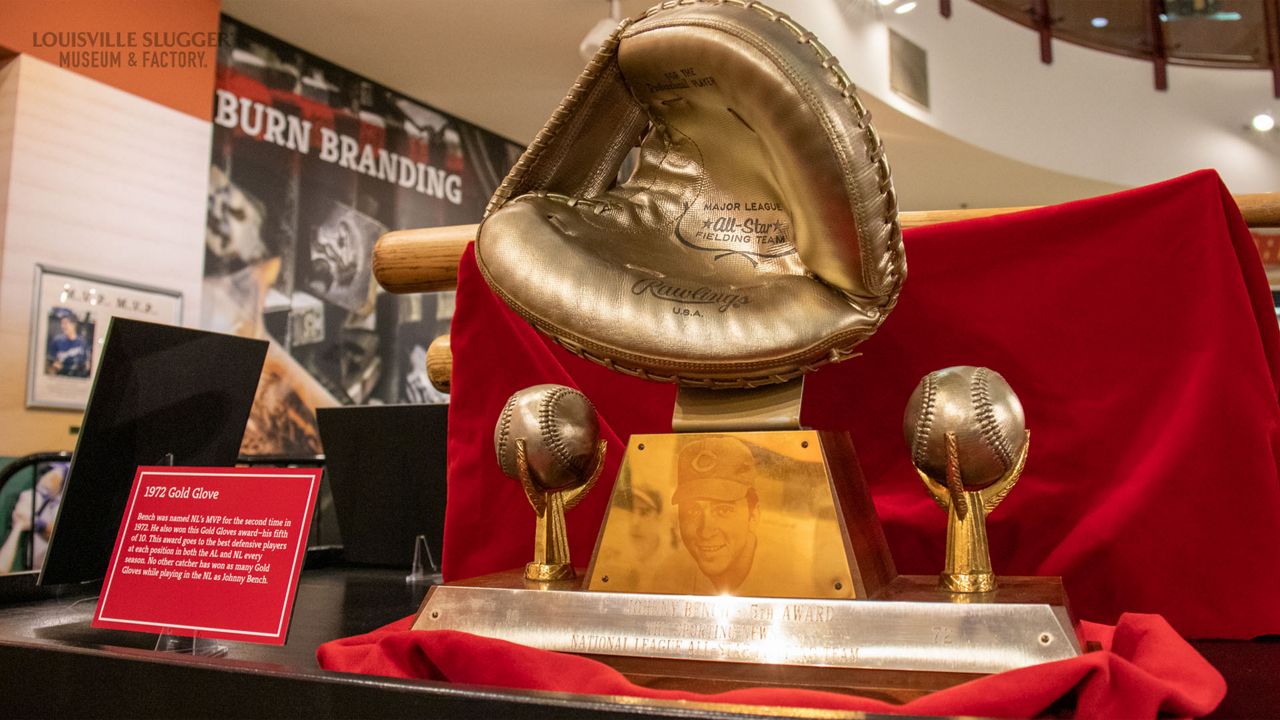 The Louisville Slugger Museum marks historic objects by Johnny Bench
LOUISVILLE, Ky. – Two of Johnny Bench's Louisville Slugger bats and one of his 10 Gold Glove Awards are now on display in the main gallery of the Louisville Slugger Museum & Factory.
These historic artifacts will remain on display until at least March 2023, museum officials said in a press release.
"We are delighted and honored to share these pieces from Johnny Bench's personal collection with our guests," said Anne Jewell, Vice President and Executive Director of the Louisville Slugger Museum & Factory in a written statement. "We have lived so many wonderful years with Johnny. Every time he walks through our doors he delights our guests with his warmth and good humor. Now even when he is not there in person, Johnny can be connect with his fans through these wonderful elements. "
The museum added the bat the bench swung in the 1968 All-Star game, the bat he hit his last of 389 career home runs in 1983 and the Golden Glove, the fifth he got in his career in 1972, on loan from the baseball legend, who played his entire career with the Cincinnati Reds from 1967 to 1983, officials said.
Bench and his family loaned these and other objects to several museums across the country after a close friend of Bench's purchased them at the 17th Annual Louisville Slugger Museum & Factory Live Auction with Hunt Auctions in 2020, according to the press release.
Other museums that have received historical artifacts from Bench's collection are the Baseball Hall of Fame and Museum, the Cincinnati Reds Hall of Fame and Museum, the Oklahoma Sports Hall of Fame, and the Johnny Bench Museum in Binger, Oklahoma, according to the Press release.
"What better place to land some of my favorite memories than the very house where my bats were born?" Bench said in a written statement. "Louisville Slugger has been with me every step of my career. Together we have launched many hits, tours and very special memories. This makes Louisville Slugger Museum & Factory a perfect partner during this rewarding time in my life. I can focus on my family and know that these historic items are in good hands and that fans can enjoy. "
Bench signed with Louisville Slugger in 1965. He was the National League Rookie of the Year and went on to become one of the leaders of the Big Red Machine that dominated the National League in the 1970s. World Series in 1975 and 1976 and won two National League MVP awards and was inducted into the National Baseball Hall of Fame in 1989.
He received the Lousiville Slugger Museum & Factory Living Legend Award in 2011.
Advanced tickets to view these artifacts are recommended and can be purchased at sluggermuseum.com,