The trend in many alternative asset classes is to make previously illiquid and high-value investments like art, collectibles, farmland and music royalties more accessible to ordinary people by offering fractional ownership. From the comfort of my smartphone, I can buy a $250 fractional share of a Shelby Mustang and hope to sell my equivalent of a turn signal stalk for a handsome profit in the future.
masterpieces does it for the art, letting you invest as little as $500 in multimillion-dollar works of art from artists like Basquiat, Picasso, and Banksy. The pitch is quite direct:
Contemporary art has outperformed the S&P for the past 25 years, but there has been no way to invest in it. Masterworks is the first company to bring investment products to the art market.
The Masterworks website claims that the contemporary art asset class has returned 13.8% annualized from 1995 to 2021, well above the 10.2% of the S&P 500. These data "reflect the appreciation of the weighted price for all contemporary art (works produced after 1945) sold at least twice at public auction.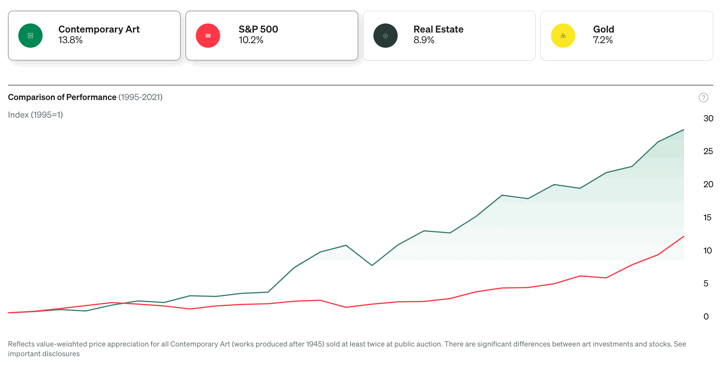 Additionally, this graph from a 2022 Citi Art Market report shows that contemporary art had a very low historical correlation, even slightly negative, with equities (Developed Equities, -0.04) and bonds (Investment Grade Fixed Income, 0.15).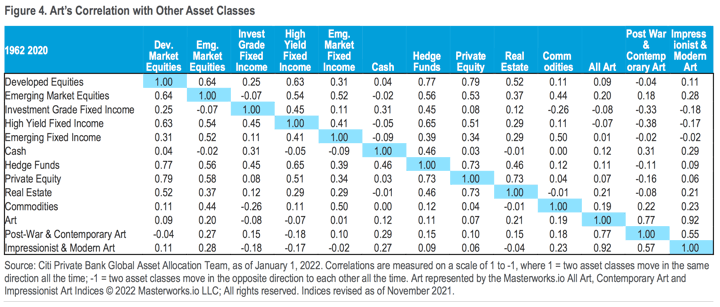 Ok, but how about other data points? Recently, Paul Allen's estate sold a record $1.6 billion worth of artwork, most of which was also bought and sold at public auction. This gives us both the buy and sell prices and the ability to calculate the annualized return. This Axios article included analysis and created the chart below.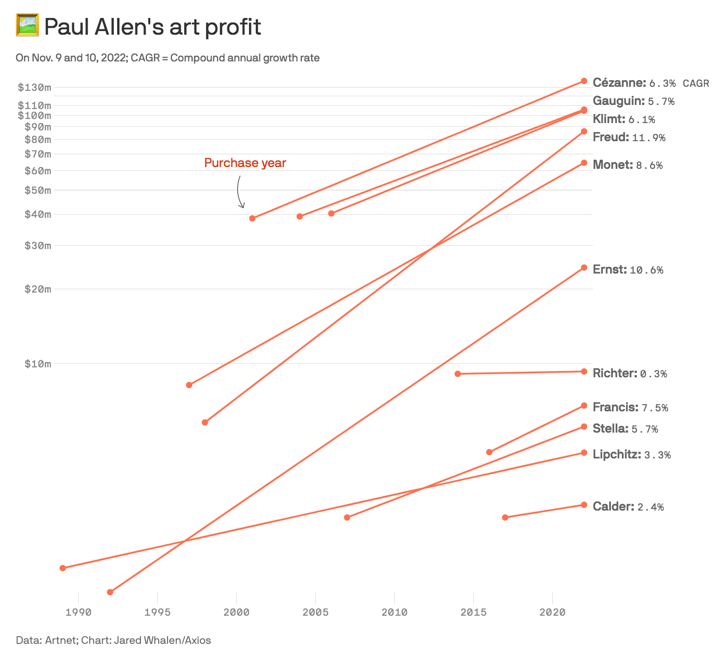 Some sales are impressive, like a Cézanne bought for $38 million and resold for $138 million less than 20 years later. A nice $100 million profit isn't too shabby. However, once you calculated the overall return including the holding periods, the annualized return was only 6.2% annualized over an average holding period of 18 years. Axios notes that the S&P 500 has risen 8.9% annualized over the past 18 years, allowing them to drop this zinger:
The bottom line: Allen reportedly made more money buying an S&P 500 index fund.
I can see art as an asset class with positive long-term returns going forward, and I can see it has a pretty low correlation to equities, but I guess I'm struggling to to see it return something amazing and still better than the S&P 500. Especially for any basket of specific coins, it can return 4% more than the S&P 500 per year, or it can return 4% less than the S&P 500 per year. It would be more of a fun and funny thing – "I own a flower petal from this Monet!" – which may retain permanent value in the future.
(I can't tell a Stella from a Seurat, so I have no personal investment in Masterworks.)