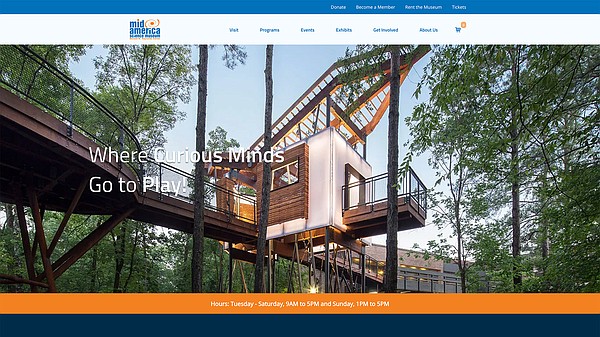 Mid-America Science Museum launches new website
The Mid-America Science Museum has launched a new website at the same web address, http: //www.midamericamuseum. org.
"Several changes have been made, mainly aimed at making the experience of visitors to the site more enjoyable, informative and accessible," said Diane LaFollette, CEO of the museum, in a statement.
"Our website is the first glance at our fabulous museum and is our number one tool for visitors to find out more about the museum, purchase tickets, get an overview of our events and exhibits, schedule classes and get the latest news. "
Among the new features of the site are:
• All tickets, donations, memberships can be purchased online.
• Visitors have the option of purchasing tickets for special events.
• A new responsive design bright and full of images.
• An easy to navigate user experience.
• Access to Hall of Wonder information highlighting the temporary exhibition in progress at the museum.
• A donor dashboard where donations can be made online.
• Birthday parties and after school science can be booked online.
• Updated museum maps.
The new website was developed by SixtyOne Celsius, Hot Springs' communications company. "We've created a lot of websites, but this has been maybe the most fun," SixtyOne Celsius President Stephanie Alderdice said in the statement.
"We are very proud of the museum and happy to help it with its marketing efforts."
SixtyOne Celsius Creative Director Aaron Buckley led the agency's design and development team.