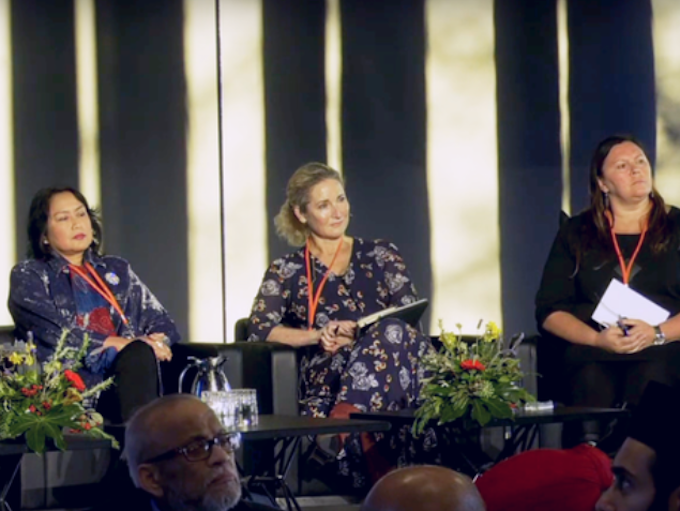 Mediawatch: Hui on Christchurch terror attacks puts media in the spotlight
MEDIA WATCH: By Colin Peacock, presenter of RNZ Mediawatch
A counterterrorism hui meant to help heal the wounds inflicted in Christchurch two years ago has sparked a headline-grabbing walkout. The media were also there to be questioned about their rights and duties after March 15, 2019.
When Police National Security Advisor Cameron Bayly revealed that two possible Christchurch shootings were foiled in 2019 – one before and one after the March 15 atrocity – it quickly made headlines.
The revelation arrived last Tuesday morning at a panel discussion at He Whenua Taurikura – an annual hui recommended by the Royal Commission into the Terrorist Attack.
He Whenua Taurikura means "a land at peace". But the hui created resentment when a guest speaker, Jewish Council spokesperson Juliet Moses, referred to a rally on Queen Street in Auckland in 2018 in which some expressed support for Hezbollah.
It had not been condemned and leaders should be consistent when confronting terrorism, Moses said.
This prompted members of Christchurch's Muslim community to withdraw.
One – Azad Razzaq Khan of the Foundation Against Islamophobia and Racism – said this "implies that New Zealand Muslims support terrorism."
This resulted in news reports that evening and the next morning – and the anger was amplified by the fact that no victims or witnesses of the mosque atrocities were among the speakers in the hui.
Following the startling news that a film studio wants to tell the March 15 story without consulting the victims or the city's Muslim rulers, this was a problem waiting to happen.
However, that did not derail the second day of He Whenua Taurikura on Wednesday, during which the leader of the New Zealand Islamic Council of Women, Anjum Rahman, gave a revealing speech on online extremism after the Christchurch bombings.
Rahman, who is an advisor to the Christchurch Appeal and the Global Counterterrorism Internet Forum, showed how hyperactive social media algorithms are still spreading anti-Muslim stuff that extremists cling to.
Media leaders face
" Listen and answer. Do not write stories about us without us. Do not speak for us or for us.
– Khairiah Rahman
New Zealand news media executives also faced questions during the hui last Tuesday.
Thing Managing Director Sinead Boucher admitted that media coverage of ethnic and community issues is often only on the surface and through a European lens.
But she insisted that our news media have a social conscience that social media doesn't.
"I can think of a handful of examples over the past few years where the media has not released information because of the risk it could pose to someone's safety," Boucher told Hui.
New Zealand Herald Head of premium content, Miriyana Alexander, said people gathered at the hui would have different ideas about how the news serves the public interest.
"We're often asked not to report something because a certain group doesn't think it's in the public interest," Alexander said.
"We are fiercely protective of this right [to report], as we recognize that rights come with responsibilities.
Reporting the shooter's crimes
One example is Brenton Tarrant's crime report in 2019.
Thing hasn't released her name for a while and only minimal details about her background and apparent beliefs. the New Zealand Herald published much more about him in March 2019.
All the mainstream media agreed to protocols for reporting his trial last year and stuck to guidelines designed to ensure he couldn't defend or promote his beliefs.
"I have never seen this happen before in my time in the media and I think it was a great honor for all the organizations involved," Alexander said.
"It was a powerful thing to do and it laid a solid foundation for coverage and ongoing relationships."
RNZ Chief Information Officer Richard Sutherland said individual media organizations would likely have followed the same principles anyway, without a binding pact in place.
But some advocates of free speech and media freedom have been alarmed by this.
Media crisis meetings
Alexander – the current chairman of the Media Freedom Committee which represents the mutual interests of the news media – said the media meet twice a year with the Prime Minister's Department and the Cabinet (which organized the hui of this week), with terrorist attacks or future crises in mind.
"Some protocols have been written," Alexander said.
"I am not aware of this happening in any other jurisdiction and it is proof of the media's desire to be a responsible member of our community."
Khairiah A Rahman, Senior Lecturer in the School of Communication Studies at Auckland University of Technology (AUT) and Board Member and Researcher at AUT's Pacific Media Center, provided a community perspective. Muslim on the panel.
She analyzed representations of Islam and Muslims in New Zealand media in 2017 and in March 2019, she said Mediawatch she had found the reports lacking in several ways.
About 13,000 of just over 14,000 articles in the New Zealand media that included the word Islam also mentioned terrorism or Islamic Jihad – and most were from foreign sources.
"There seems to be a growing hatred for a faith supported by 1.5 billion of the world's population, but more importantly, this destructive trend is being promoted by the media, consciously or not," the article concluded by Rahman.
A hailed media response
Last Tuesday in Christchurch, she praised the media reaction to the attacks on mosques, but cited examples of past reporting that had offended.
She cited coverage of the so-called "jihadist wives" issue.
In 2015, Prime Minister John Key called New Zealand women visiting Syria and Iraq "jihadist brides". The director of the Security Intelligence Service (SIS) said the numbers were on the rise. But in 2016, SIS revealed that none of the women involved had actually left New Zealand.
Rahman also warned that the visuals of the stories could be discriminatory and cited a Sunday Star Hours 2014 story: fears of terror in our own backyard.
The story was published at a time when government ministers were considering new measures to prevent New Zealanders from traveling abroad as foreign fighters.
The main photo pictured was that of Sheikh Abu Abdullah outside his home in West Auckland, under which a caption read: "FIREBAND OR MAN OF PEACE?
"You must be wondering what the point of this was," Rahman said.
Experienced journalists
The story was written by two experienced journalists and focused on this controversial figure, also known as Abu Hamam, who had been kicked out of the Islamic Center in Avondale.
"He wasn't interviewed in the story, so how is it fair to call him 'Firebrand… or man of peace?'
"If you understand the people you're talking about in the marginalized position where they come from, it's not that hard," she said.
The story included comments from Auckland Muslims who knew him, Muslim followers and experts. At first glance, the story has the kind of context and community critics say it is often lacking.
"I don't agree. If you were to tell this story to the Muslim community, there would be things they would point out to you. You find the voices are diminished, because at the end there is a list of people who passed through Australia and joined ISIS.
At the bottom of the article was a list of four "Kiwi Jihadis," including Daryl Jones and Christopher Havard, killed in a US drone strike alongside Al Qaeda militants in 2013. The newspaper said the Havard's family claimed he had radicalized in a Christchurch mosque.
"If you have a good introduction, but the last part is awful, you leave thinking Muslims are awful," Rahman said.
"Largely negative"
His research into how the New Zealand media treated Muslims before the Christchurch bombings showed that the coverage was "largely negative".
"But in the Royal Commission report, there was no mention of media accountability. I made a submission to the Royal Commission stressing that the media was responsible for perpetuating negative stereotypes and ideas – largely in the international media, "said Rahman.
"I think it's a start to recognize that."
Rahman left the media with this message last Tuesday:
" Listen and answer. Do not write stories about us without us. Do not speak for us or for us.
This article is republished as part of a community partnership agreement with RNZ.