London – The fascination with Japan as a travel destination speaks to many. Before the world is ready for tourism again, Bonhams has assembled a collection of Japanese prints capturing the most scenic, albeit uncrowded and isolated, sides of Japan in the 20and century. This collection of Shin Hanga (New Print) by Kawase Hasui (1883-1957) spans over 30 lots and will be featured at Bonhams London sale in Travel Tradition and Transition: Japanese art through the centuries November 4, 2021.
Kawase Hasui, a key figure in Japan Shin Hanga tradition, is well known for his love of travel, a hobby that meant more to him than just sightseeing. As Hasui himself once wrote, "…traveling is my favorite pastime…and this hobby is not just something I talk about casually, since drawing is my focus…"
He was particular about where he would open his sketchbook, depicting famous locations but rarely choosing the most obvious or famous angles. Batch 350 (Evening in Beppu), for example, represents the onsen (hot spring) resort town of Beppu, as popular in 1929 as it is today, but seen through a tangle of bare, wintry branches.
Hasui treated his country's large temples and shrines in the same spirit of independence, eschewing the standard frontal view and concentrating on a small section – often without any distinctive features – so that, as with lot 353 (Honmonji Temple Pagoda; pictured on the front), only the written title reveals the identity of the building.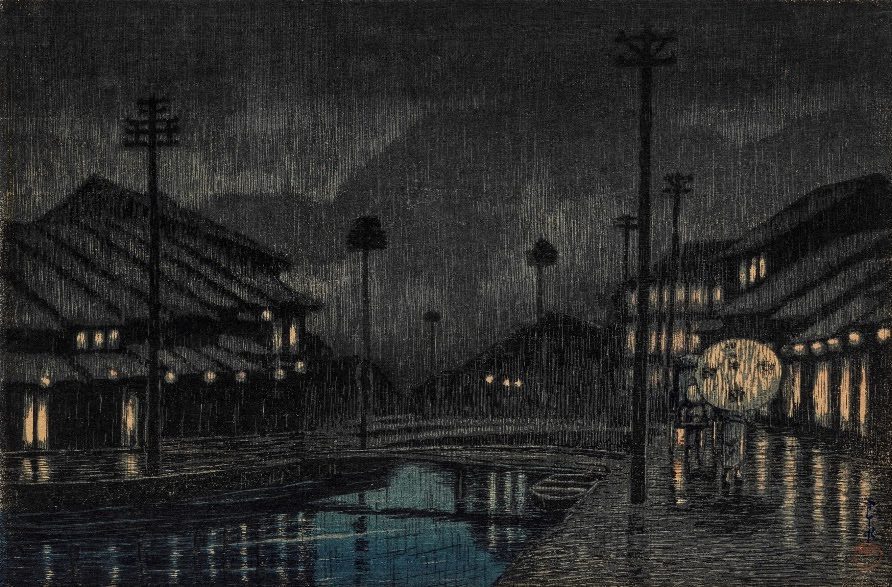 In terms of pure landscape, Hasui eschewed the picturesque views that have become famous, preferring to savor the quieter nuances of places, not reflecting them with mundane precision but capturing their shifting and elusive moods, as with lot 336 (Kinosaki) where he plunges the viewer into the melancholy atmosphere of a dark stormy night and the thrill of a sudden downpour.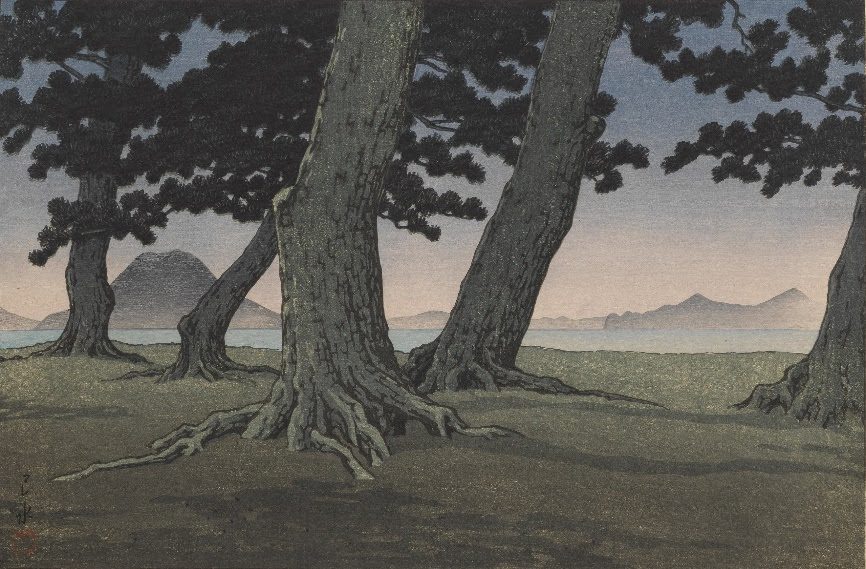 He traveled to feel, not just to see, and in doing so he elicited an emotional response and encouraged a desire to travel freely – to feel the loneliness of a deserted mountain path (lot 344, Dusk in Aso) or a coastline characterized by the strange roots of pines whose dappled reflections are enhanced by a clear moon (lot 352, Teranohama).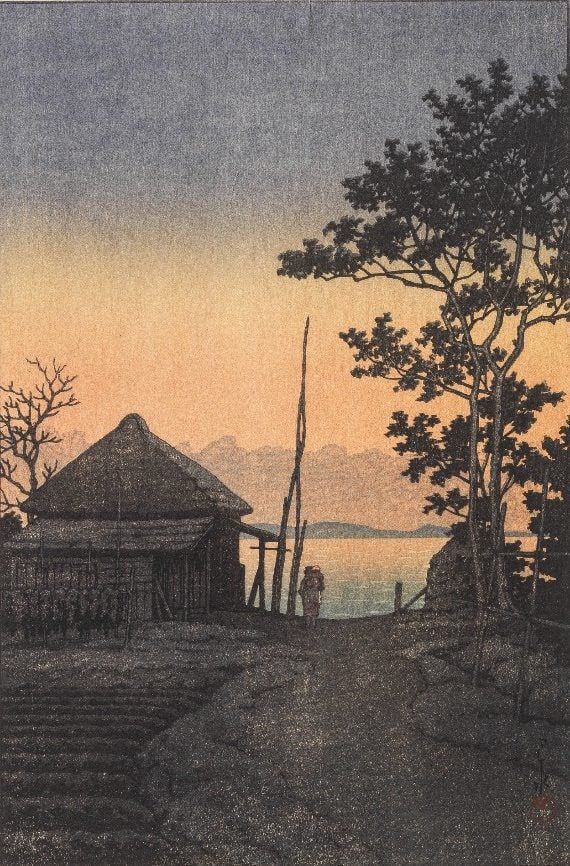 Hasui was immensely talented and commercially successful in Japan and abroad, designing over 600 woodblock prints in just four decades, some published in editions no larger than 2,000, far fewer than some of the great landscape prints of the 19th century such as The "Great Wave" by Hokusai.
The majority of his prints in this sale come from private collections. Some bear one of the earliest copyright seals from his longtime publisher, Watanabe Shozaburo, while a few are even older and rarer designs, dating from before the great earthquake that devastated Tokyo and Yokohama. in 1923.. Most of Hasui's major museum collections of prints are in the United States, where his work first gained international acclaim in the 1920s. The late Steve Jobs is said to have also been an avid collector.
Shin Hanga are 20 years oldand century Japanese prints made using the same traditional system used to create ukiyo-e, but are markedly different in appearance (Western style); and tactile quality (because of modern paper and pigments). Common themes of Shin Hanga includes landscapes, nature and actors.
Japanese cloisonne enamel
See also

The sale also explores the themes of Tradition and Transition via Japanese cloisonné enamel. The art of Japanese cloisonné enamel, elevated from simple beginnings to world prominence during the second half of the 19and century, is represented by masterpieces from the workshops of two contrasting artists: Namikawa Yasuyuki of Kyoto (?? ??; 1845-1927) and his independent namesake Namikawa Sosuke of Tokyo (?? ??; 1847-1910) .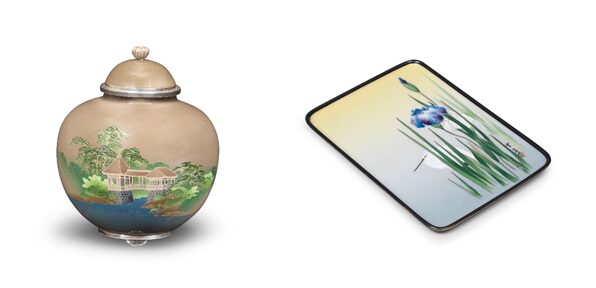 Lot 188, a chunky pot by Namikawa Yasuyuki, is a miracle of detailed miniaturization, depicting a famous temple built on a tiny, curved form that presented formidable technical problems, but the intricate modeling of the leaves, building walls, branches and trees was further improved by the l using tiny pieces of silver wire. This lot carries an estimate of £15,000-20,000.
Lot 187, a beautiful rounded rectangular tray in cloisonné enamel and musen ("wireless"), is a classic piece by Namikawa Sosuke, demonstrating his technical genius in constructing the surface of a piece in multiple layers of colored glass paste; the smooth, shiny surface was then created through a laborious process of grinding and polishing. Sousuke is particularly admired for his ability to bokashi (shading), a smooth color transition, obviously achieved without the use of partitions (parting threads). Experts have yet to determine exactly how he did this, and no one has ever matched the subtlety of his work. This lot carries an estimate of £18,000-25,000.
The very early years of the 20th century saw a different kind of transition, from cluttered and highly elaborate decoration to a more sparse, less Victorian and more appropriate style for the times. This change is clearly visible in the work of Yabu Meizan (1853-1934), the main representative of the "Satsuma" style of earthenware which conquered the world markets between 1880 and 1910. The highlights of Yabu Meizan extend from the beginning to the end of his career, in particular: