by Barack Corroboree (Women in opossum skin capes), created in 1897, sold for $378,000 (buyer's fees included), the third most expensive work at auction and a new record for the artist. His parade shield, also made in 1897, sold for $52,920 (including buyer's fees), more than triple its low estimate and an auction record for a Barak artifact.
Melbourne dealer D'Lan Davidson was in the auction room at Sotheby's New York on behalf of the Wurunjderi Woi Wurrung Cultural Heritage Aboriginal Corporation, with Wurunjderi eldest Uncle Ron Jones on the phone with him from the Australia before dawn last Thursday.
As the Wurunjderi Corporation considers various options for the storage and display of artworks, they are already in demand for upcoming exhibitions.
"We would love to have them," says Judith Ryan who, together with Professor Marcia Langton, is curating the groundbreaking exhibition 65,000 Years: A Brief History of Australian Artto be held next year at the Ian Potter Museum of Art at the University of Melbourne.
"When you think about it, the university is in the land of the Wurunjderi Woi Wurrung people and Barak was truly a phenomenal leader, a spirit of reconciliation, he was revered by both blacks and whites alike, and his record of culture and his initiation of his own figurative style with introduced materials is truly the beginning of the modern Aboriginal art movement. So he's an absolutely essential figure that has emerged in this country," Ryan says. "We examine all the great architects of change through time and how triumphant the emergence of modern Aboriginal art has been."
A tireless advocate for Indigenous art, Ryan was the former Senior Curator of Indigenous Art at NGV, where she worked for 44 years. His successor at the NGV, Myles Russell-Cook, described Barak's works as "valuable testimony to Indigenous ways of life both before and on the frontier."
"Through his art as well as his engagement with European culture, Barak left behind a wealth of detailed and important information about Wurundjeri cultural traditions," said Russell-Cook.
"There are only about 50 known paintings by Barak, and therefore the discovery of any new work is of utmost importance to the Wurundjeri. The main subject of Barak's work was the ceremonial trade and as such works such as these represent a tangible link to Wurundjeri ancestral and ceremonial knowledge.
"To see this painting and this shield successfully return to the land of Wurundjeri, the land where they resonate culturally, is important for all Australians, but particularly for the preservation of South East Aboriginal culture."
Apart from Barak, new records have also been set for Mick Namarari Tjapaltjarri, Makinti Napanangka, Tjumpo Tjapanangka, Willie Tjungurrayi, Kanya Tjapangati, Joseph Jurra Tjapaltjarri, Pepai Jangala Carroll, Regina Pilawuk Wilson, Maringka Baker, Nyapanyapa Yunupingu, Jimmy Mijau Mijau , Djambulala, Wimmitji Tjapangati, Wintjiya Napaltjarri and Judy Watson.
At Wimmitji Tjapangati's Tjanti (near Jupiter's Well)1991, more than doubled its low estimate to sell for US$100,800 (including buyer's fees) while artist Warlayirti Tjumpo Tjapanangka Wati Kutjarra (Two Brothers), 2004, also sold for more than double its low estimate at US$189,000 (buyer's fees included).
Collectors have shown a preference for recognizable Aboriginal works. Several works by a new generation of openly political artists, including Vernon Ah Kee, Richard Bell and Christian Thompson, failed to sell. Ah Kee your duty, 2016, was perhaps the most impactful of them all. A textual work that reads: "Your duty is to accept me, my duty is to tolerate you", it ostensibly overturns the social hierarchy. But an international audience may have found it difficult, and it was passed on against an estimate of $25,000 to $35,000.
Bucking the trend, Judy Watson looked like a shroud thrill, 1993, a large calico fabric stained red with oxide, a powerful allusion to the historic massacres of Indigenous Australians. The hauntingly beautiful artwork sold for US$18,900.
Several shields, clubs, spears and figurines made by unknown Aboriginal artists have also been passed down.
"All of the artifacts in the sale were from an American collection and 50% have been sold," Klingender said. "The seller's prices were probably too ambitious and we will carefully consider whether to offer artifacts again in these sales."
In total, 69 of the 103 lots were sold. While the $4.5million auction total was a record for an Aboriginal art sale in New York, it's a small change from Sotheby's takings of more than $7billion last year. . But Sotheby's has pledged to present an annual sale dedicated to Aboriginal art and will do so again in May next year.
"Sotheby's was extremely pleased with the result," says Klingender.
In Australia, the only major auction house that continues to offer sales dedicated to Aboriginal art is Deutscher and Hackett, whose sale of 69 lots in March brought in $2.5 million (including acquisition costs ).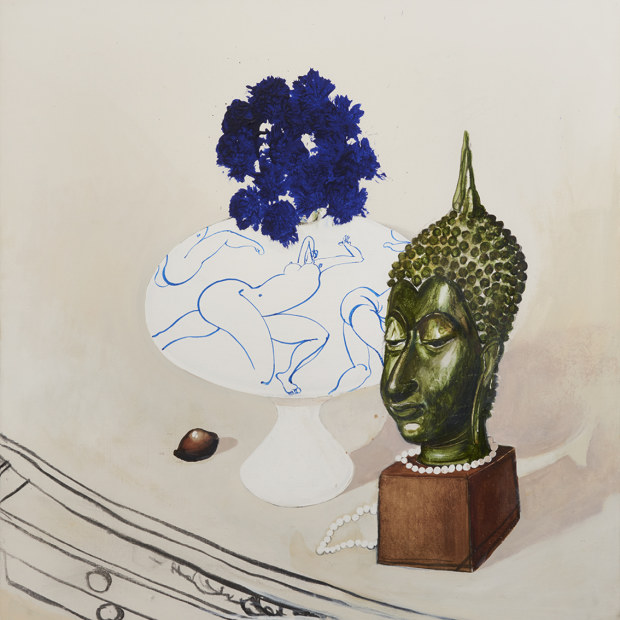 In other news, Brett Whiteley Still Life with Buddha and Cornflowers, 1989, sold at Shapiro in Sydney last week for $500,000 (hammer), or $613,333 with buyer's fees, making it the most expensive Whiteley to hit the market so far this year. It's also the most expensive work Shapiro has ever sold, in a sale that fetched a total of $1.97 million (including buyers' fees), a breakthrough for the auction house.
The painting was purchased by a private collector and now hangs in Brett Whiteley's studio in Surry Hills, a fitting addition to the exhibition. Blue and whitewhich looks at Whiteley's ceramics and the importance of the color blue in his work.