Charles Anderson wants to open a new art market at Faubourg Marigny, more than a year after another market closed. He raised over $ 18,000 to start the project and says he got 200 signatures of support. So far, New Orleans City Hall has not handed him the keys to Washington Square Park, where he is considering the new art bazaar, but there is hope that the Department of security and permits will see fit to give the green light.
In the few years leading up to the pandemic, the Palace Art Market was a bustling addition to the Marigny entertainment district. Lighted up like a carnival, the exterior display case of a former parking lot at 619 Frenchmen St. hosted up to 40 artists and artisans offering photos, paintings, jewelry, clothing and small sculptures to nightclub crowds. The popular destination remained open from 7 p.m. to midnight and beyond, daily.
The lights went out in March 2020, when the pandemic chased everyone inside and businesses shut down. A smaller adjacent market, The Art Garden, opened in April 2021, but palace owner Gregor Fox has changed course; instead of reestablishing the art bazaar, he teamed up with a nearby nightclub owner to produce an open-air concert hall for 619 French people.
Anderson, who had a regular seat at the Palace, found himself without his usual access to customers. Sales had been good, he said, and he and his fellow artists relied on the prime location for financial stability.
"We are all trying to find out when life will start again," he said. "The money is running out. When can we resume our livelihoods? "
Restarting the art market would be pretty straightforward. But where? In Anderson's mind, the ideal location would be nearby: picturesque Washington Square Park.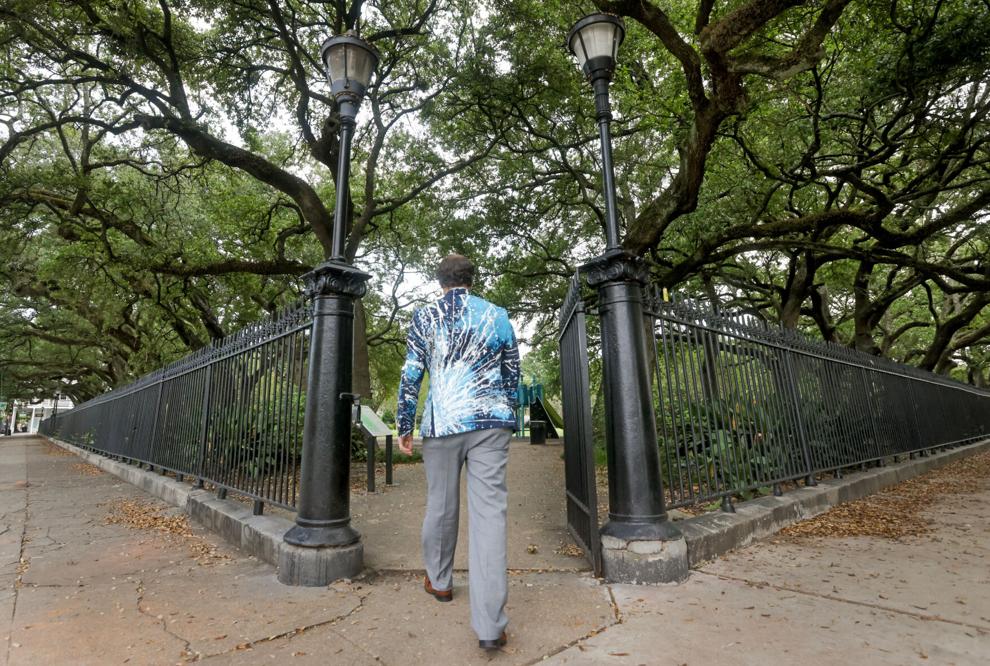 Since the park closes at sunset and the art market would open around the same time, the bazaar would not interfere with regular use of the park. All artists would need is electricity for lighting. They would bring their own folding tables and their wares, and everything would be packed and transported by closing time.
Anderson said he plans to hire a full-time manager, a security guard and an overnight cleaning crew. He planned to earn a salary as an owner and administrator.
The park would not be affected, the market would not compete with bars, restaurants and nightclubs, artists could get back to work and everyone would be happy.
As dusk fell on the Marigny on Tuesday July 25, the French owner of the art market, Kate Gaar, led a second-line parade in the middle of the night …
Well, not everyone.
Anderson said a handful of opponents found fault with the plan, but most seemed to think it would be a plus for the neighborhood. Anderson was so confident he took the plunge.
Two months ago he used the gofundme online contribution site solicit donations for the future Frenchmen Artist's Market in Washington Square Park. The market, he said, would be a nonprofit "run by artists for artists" cooperative. The fees that artists pay to show there would cover expenses, with any surplus being reinvested into the business for community art projects.
Because the park covers an entire block, much more spacious than the old parking lot, the new market could expand to accommodate 100 performers instead of just 40. In fact, Anderson's gofundme page optimistically stated that the French artists' market proposed would be "the largest night-time art market in America.
In no time, Anderson hit his initial goal of $ 15,000 in seed money, so he raised the bar to $ 30,000. Donations capped at $ 18,220, which is enough to get the operation started.
But there was a problem. Because Washington Square Park is not zoned for such uses, city officials have said the Frenchmen Artist's Market cannot call it home. So Anderson ended up with a bunch of money but nowhere to go.
Anderson, 39, is from New Jersey. He was part of the wave of socially conscious adventurers who came to New Orleans during the recovery period from Hurricane Katrina. He helped build houses in the Musicians' Village, created an anti-violence organization, and ran for mayor on an anti-violence platform in 2017.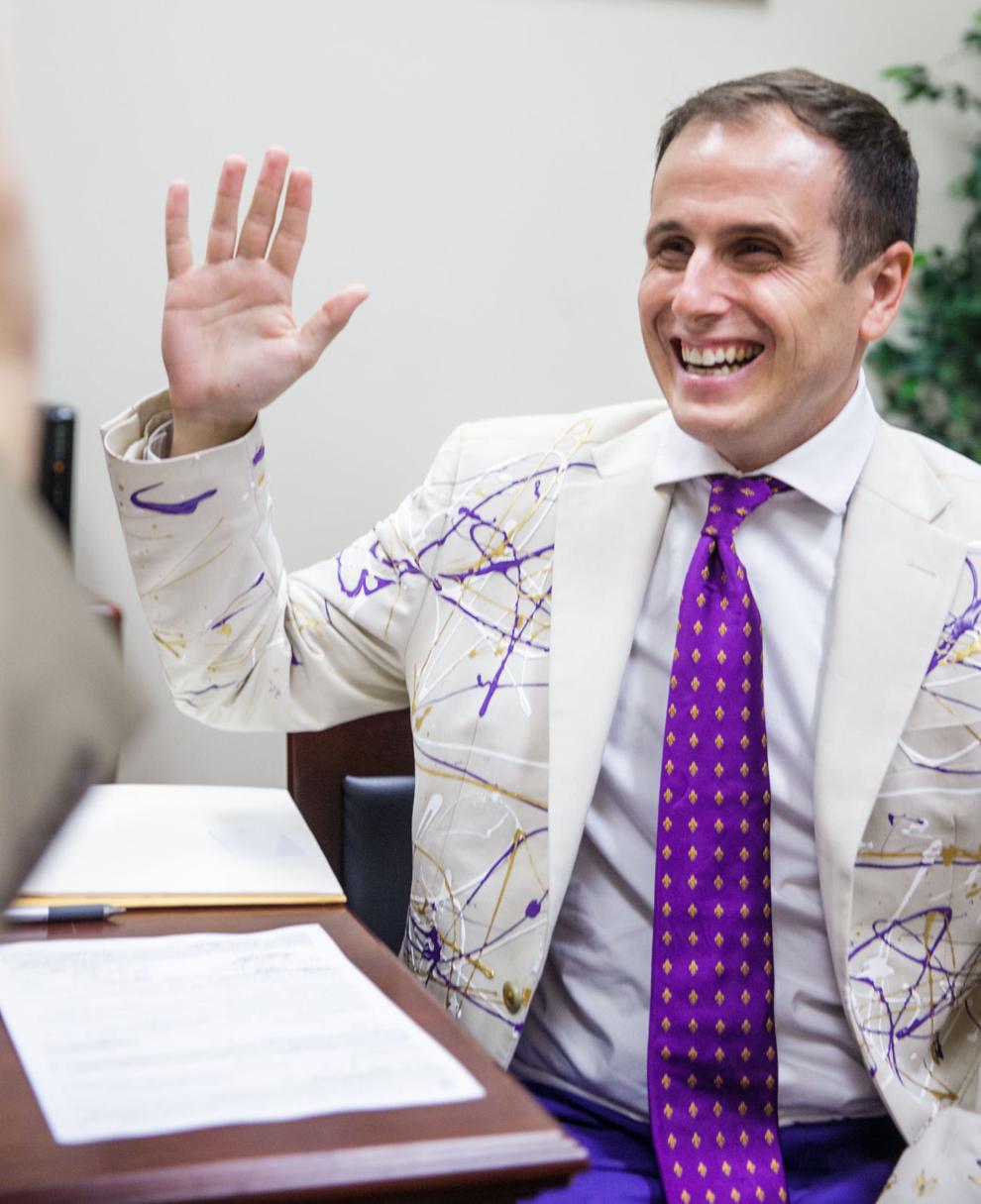 In 2009, Anderson had a sort of artistic epiphany as he engaged in the grim task of painting the names of murder victims on signs to be displayed at a peace rally. In his haste, he splashed streaks and pops of color on his clothes. The randomness of it sort of suited the New Orleans vibe, and soon Anderson was applying skeins of paint to Jackson Pollock-style clothing. His '1 in 1' splash blazers have become a hit, especially at the Palace Art Market, where he has exhibited his wares since 2015, earning thousands of dollars every week.
Anderson said if the new art market didn't work, it would return the money to its donors. But he still has a card to play.
If city officials agree, he could get a special permit to present a series of temporary weekend art markets in Washington Square Park. It wouldn't be a full time market, but it would jump at the chance.
Perhaps there is cause for optimism. A city hall spokesperson said that although Washington Square Park is not zoned for such use, "in other similarly zoned parks, we allow special events such as art markets or festivals for for a limited period, i.e. once a month or once a week, as temporary events authorized by our office.
The Black Lives Matter protests may have died down in New Orleans in recent days, but street performers have kept the message in the public eye with fi …