Art from the Attic – a donation-based art sale that raises money for charities – is set to return on September 17 after a two-year COVID hiatus.
Reviews and recommendations are unbiased and products are independently selected. Postmedia may earn an affiliate commission on purchases made through links on this page.
Content of the article
Sherry Wolf believes that works of art must be seen to be appreciated.
Content of the article
In fact, she's counting on it.
Content of the article
As one of the volunteer organizers of Art from the Attic – a long-running charity event in Regina – Wolf is eager to help revive the annual art sale after it was canceled for two consecutive years due to the COVID pandemic.
"It's really exciting for us to be back in person," Wolf said. "We have made great efforts over time to remain a productive group (during COVID). We did some online sales. It's so much better when it's in person, especially when it's an art sale like this.
As its name suggests, Art from the Attic relies on donations from the public. Coins are being sold for charity at a one-day event taking place Sept. 17 from 10 a.m. to 4 p.m. at the Cathedral Neighborhood Center (2900 13th Ave.).
Content of the article
There is no free admission and the art is "at sale price".
The event is run by the Regina branch of Grandmothers 4 Grandmothers, a national non-profit organization that partners with the Stephen Lewis Foundation. The Toronto-based foundation was established in 2003 to work with grassroots groups in sub-Saharan Africa. Funds are earmarked to support 'grandmothers' who are raising a generation of children orphaned by AIDS and HIV.
According to the Stephen Lewis Foundation, she has raised more than $40 million through the Grandmothers Campaign while contributing to 2,100 projects and 335 community organizations in 15 African countries.
The Regina group has been part of this initiative since 2006, but the onset of COVID presented unique challenges.
Content of the article
"Like most nonprofits, we've all struggled trying to do what's normal for us, which is fundraising," Wolf said. "It was difficult. We've had some creative ideas (to fundraise online)… but it's not quite the same.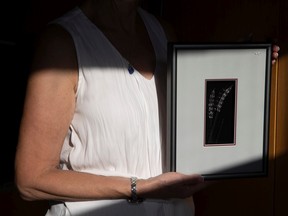 Were it not for the pandemic, Art from the Attic would celebrate its 10th anniversary in 2022. The Grandmothers of Regina are also closing in on $1 million in total charitable contributions since their organization's inception.
"We're well over the $900,000 mark," Wolf noted. "We do a lot of small fundraising, so it's important for us to get closer to this milestone. We hope that with this sale – or early next year – we will be able to do just that. It's exciting."
In order to achieve their goal, the organizers rely on people to make their works available for donation. There are four drop-off locations: Atelier Arts (2075 Albert St.), Benjamin Moore Elements of Color (4350 Albert St.), Colourburst Paint and Wallpaper (551 Albert St.), and Independent Living (3870 E. Eastgate Drive).
Content of the article
The deadline is September 13.
"We usually get a push at the very end," Wolf said. "We hope that more donations will arrive. Our sale depends on donations. It arrives but not as quickly as the other years. It takes time to get back into the swing of things. »
Art from the Attic only accepts two-dimensional pieces (no sculptures or pottery). Donations can be original artwork, prints, photos, watercolors, acrylic, oil, metal art, fabric art, etc.
Before the artwork is offered for sale, it is inspected, cleaned and refurbished (if necessary). This process may include replacing the carpet and frame to make it more attractive to potential buyers.
The end result is an almost like-new work of art, even if it was gathering dust in someone's attic.
"The community of Regina gives us very generous donations; I think people recognize it's a good cause and a way to recycle their art," added Wolf, who expects the sale to be well attended, if history is any indicator. .
"People are (usually) lined up at the door on Saturday morning. People know it's good art and there are a lot of good deals. It is very successful and we hope that is what will happen this year.